Bruxelles-Propreté organises collections of waste in containers for their customers. Containers of different colours are provided by type of waste (blue for PMC, yellow for paper-cardboard, green for bottles, jars and flasks in clear glass, grey/black for residual waste and orange for organic waste).
CONTAINER COLLECTION FREQUENCY: The frequency varies according to the quantity of your waste. The collection days for your containers are indicated in your contract with the Agency.
COST OF THE COLLECTIONS: For the costs of collection and other conditions, contact Bruxelles-Propreté Pro by e-mail pro@arp-gan.be or at 0800/988 77.
TO ORDER YOUR CONTAINERS
Please contact our team via
pro@arp-gan.be
or at 0800/988 77
Paper-cardboard
Yellow
Small container
Equivalent to 8 yellow commercial bags

240 l capacity
Height: 1.100 mm
Width: 740 mm
Length: 580 mm
Weight: 15 kg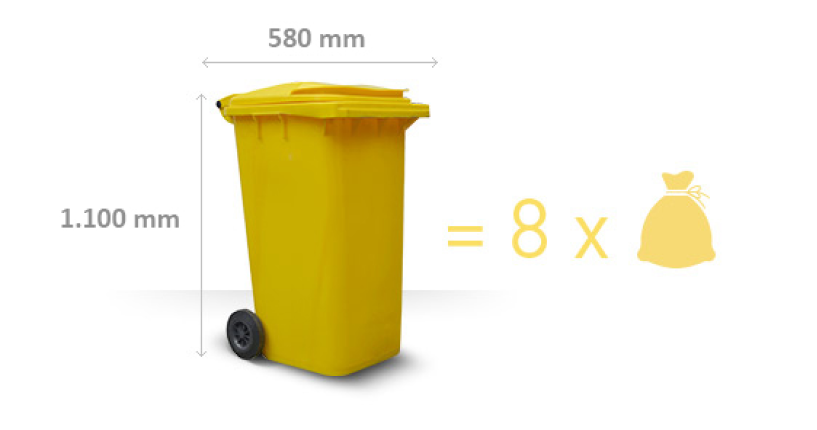 Medium container
Equivalent to 22 yellow commercial bags

660 l capacity
Height: 1.180 mm
Width: 770 mm
Length: 1.360 mm
Weight: 45 kg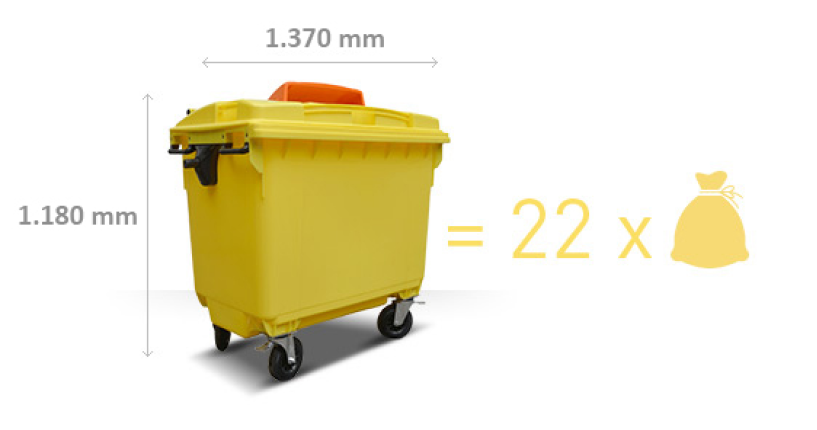 Large container
Equivalent to 37 yellow commercial bags

1100 l capacity
Height: 1.451 mm
Width: 1.068 mm
Length: 1.369 mm
Weight: 73 kg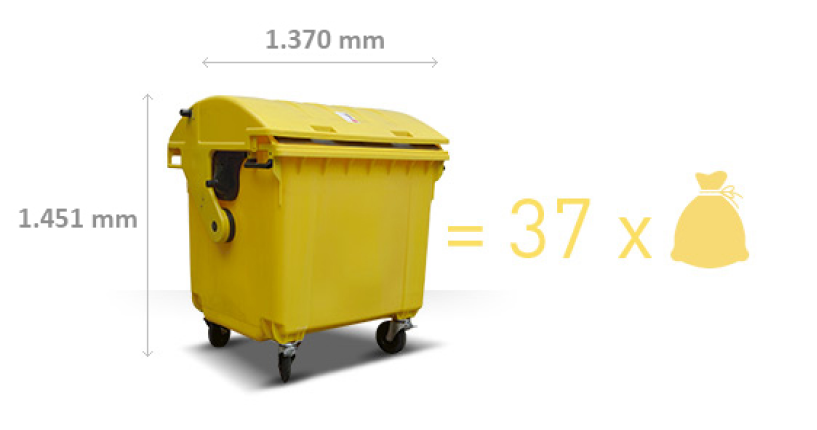 PMC
Blue
Small container
Equivalent to 5 blue commercial bags

240 l capacity
Height: 1.100 mm
Width: 740 mm
Length: 580 mm
Weight: 15 kg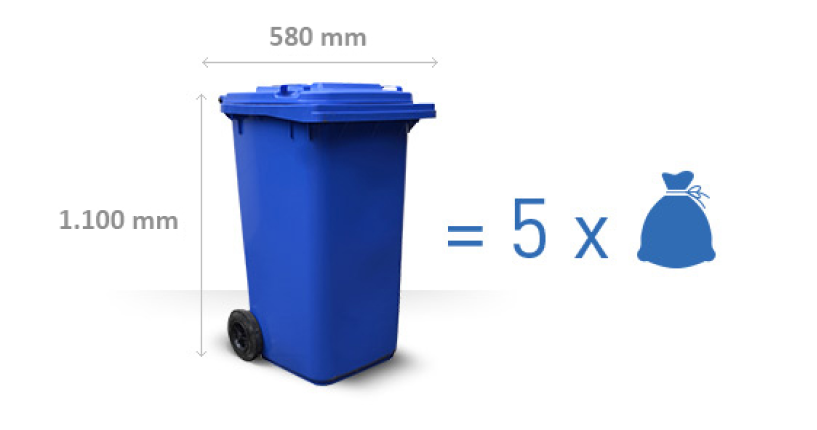 Medium container
Equivalent to 13 blue commercial bags

660 l capacity
Height: 1.180 mm
Width: 770 mm
Length: 1.360 mm
Weight: 45 kg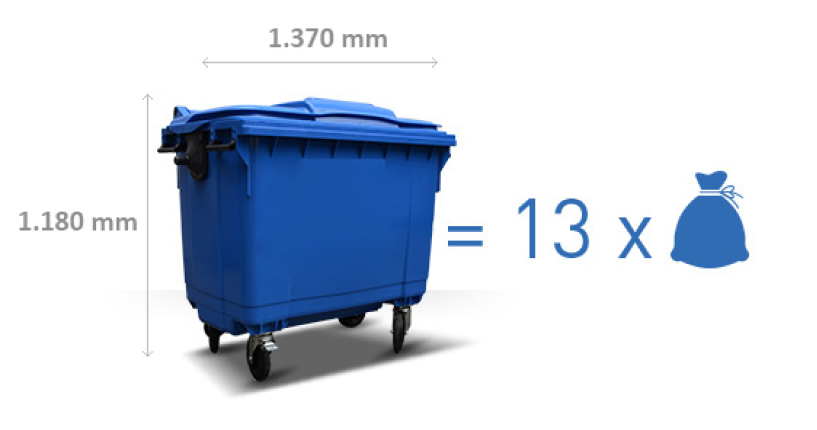 Large container
Equivalent to 22 blue commercial bags

1100 l capacity
Height: 1.451 mm
Width: 1.068 mm
Length: 1.369 mm
Weight: 73 kg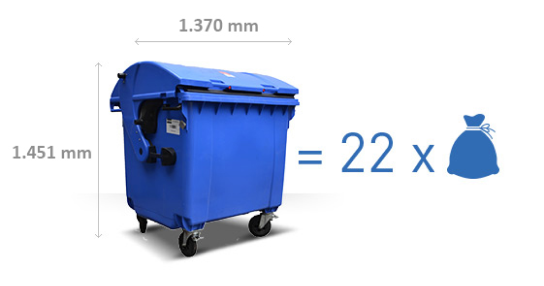 Food waste
Orange
Small container
140 l capacity
Height: 1.068 mm
Width: 550 mm
Length: 500 mm
Weight: 9,4 kg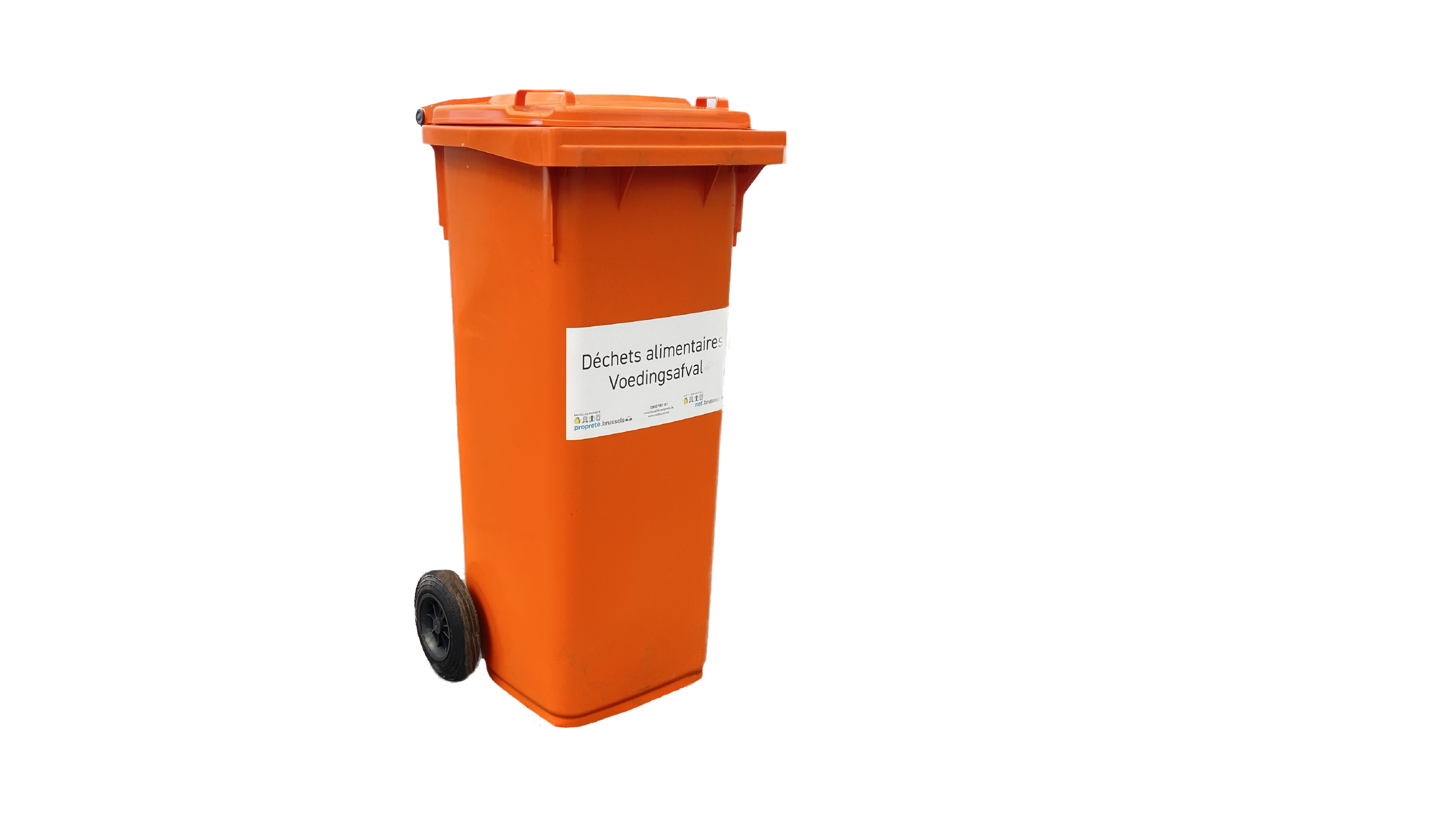 Small container
Equivalent to 7 orange commercial bags

240 l capacity
Height: 1.100 mm
Width: 740 mm
Length: 580 mm
Weight: 15 kg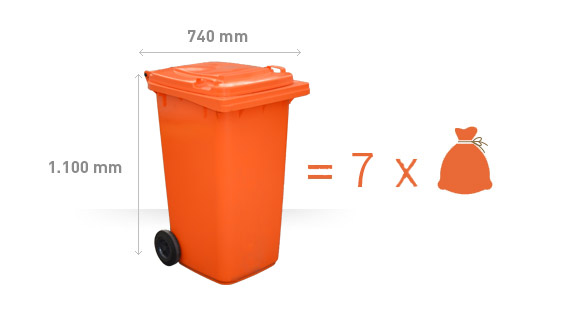 Clear glass bottles
Green
Small container
240 l capacity
Height: 1.100 mm
Width: 740 mm
Length: 580 mm
Weight: 15 kg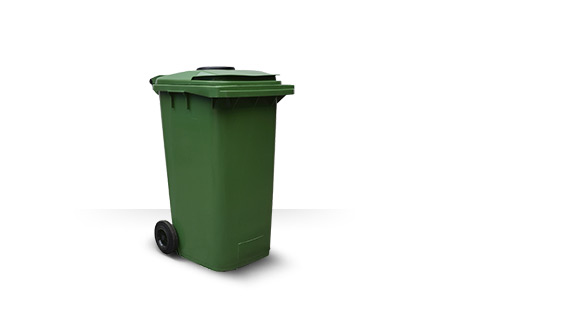 Residual waste
Grey/Black
Small container
Equivalent to 3 fuschia commercial bags

240 l capacity
Height: 1.100 mm
Width: 740 mm
Length: 580 mm
Weight: 15 kg
Medium container
Equivalent to 8 fuschia commercial bags

660 l capacity
Height: 1.180 mm
Width: 770 mm
Length: 1.360 mm
Weight: 45 kg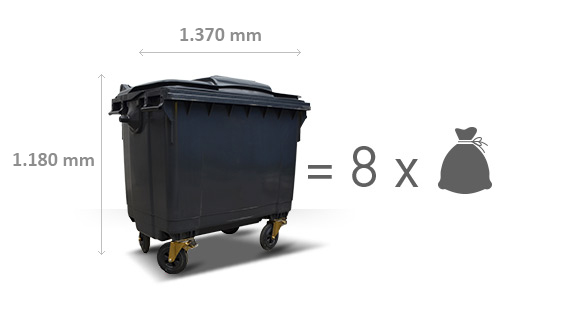 Large container
Equivalent to 14 fuschia commercial bags

1100 l capacity
Height: 1.451 mm
Width: 1.068 mm
Length: 1.369 mm
Weight: 73 kg